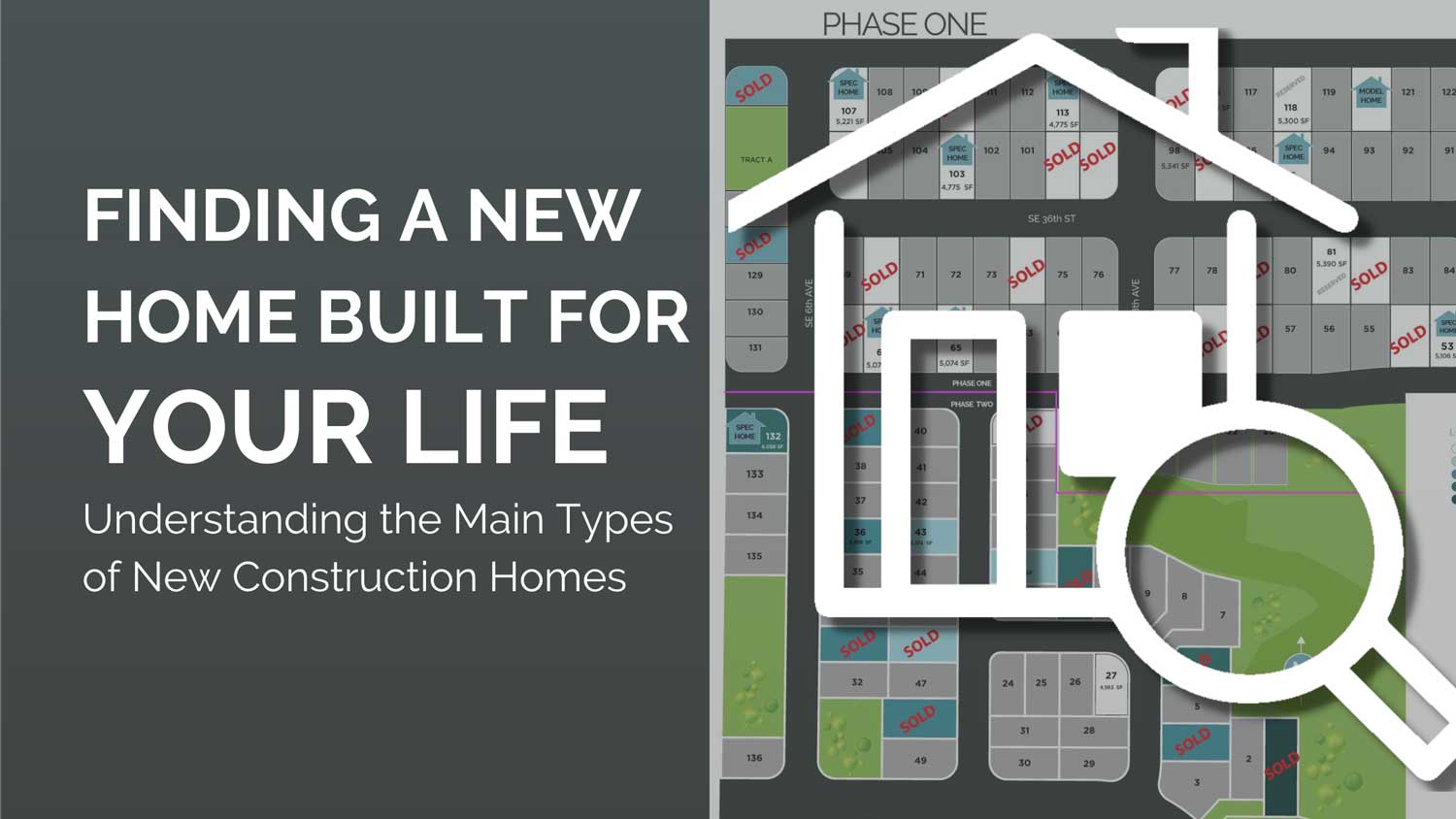 Finding A Home Built for Your Lifestyle
Understanding the Main Types of New Construction Homes
Your home is where you create memories. You will spend more time in your home than any other place, so you want a dwelling packed with the amenities that make it possible to live the life you imagine.
If you are like 71% of Americans searching for a new home, you are still searching for a home that blends the features you need with the style you love within your desired price range. This struggle might be what inspired your search for more information on new construction homes and real estate terminology.
Common New Home Search Definitions
To get started, we have a brief overview of the most common categories to consider when searching for a new home.
Custom Homes Definition
How one defines "custom home" can vary quite a bit. A custom home can sometimes imply it's a high-end home, but that is not always the case. Most commonly, a custom is a home built and designed to a homeowner's unique specifications, allowing consumers to control layout, lot size, design finishes, and accessibility.
To sum it up, a custom home is all about you, the homeowner.
Semi-Custom Homes Definition
The term "semi-custom home" can confuse home buyers. Essentially, a semi-custom home will allow you to personalize the home within guidelines predetermined by the home builder.
A semi-custom home typically begins with a plan provided by the builder, but you can make some changes to the layout. Because many decisions are made for you, semi-custom homes are often a less involved process for the homeowner than a completely custom home.
On Your Lot (Land) Homes Definition
An "On Your Lot" home is what it sounds like, a new construction home built on your property. Depending on your budget and the builder you select, building a house on your land (or lot) can be a custom or semi-custom home, but it will never be a spec home or quick move-in.
With BOYL homes, you should anticipate a longer construction timeline due to the builder needing to adapt to your unique piece of land.
Quick Move-In  Homes Definition
A "Quick Move-In" home goes by many names, with inventory, spec, and move-in ready being the most common alternatives. For short, real estate professionals will also refer to a Quick Move-In home as a QMI.
Simply put a spec home by any name is already substantially complete and built on land owned by the home builder. Because of the nature of a spec home, the homeowner typically can't choose any design finishes or paint colors.
Existing Homes Definition
An "Existing Home" is when you are buying a home that has had at least one previous owner and is often more than a year old. Sometimes also referred to as inventory homes, these houses may not be new, but they are new to you.
For homeowners that want modern design and specific features they will renovate the home after the financial closing.
New Construction Versus Existing Homes
When comparing new construction homes and existing homes, it's impossible to get an apples-to-apples comparison. An existing home will often have more mature neighborhoods with landscaping that increase the curb appeal, while a new home is more likely little to no landscaping but a striking modern exterior design and interior features.
While there are many reasons to consider a new construction home or an existing home, it's undeniable that new homes offer many features that old homes simply cannot due to their age. Please read our blog post for more information on the benefits of new construction.
A Common Misconception
Many people believe that a new construction home is more expensive than an existing home, but in the state of Washington, that is not the case. Washington ranked as one of the states where new construction can be more affordable than existing homes.
Comparing Custom, Semi-Custom, and Quick Move-In Homes
If you've already started researching new construction homes for sale and are having difficulty finding a house that meets all your needs, building a custom home may be your best option.  The comparison chart below will help you understand some of the differences between the options for a new build.
| New Home Priorities | Custom | Semi-Custom | Quick Move-in | On Your Lot |
| --- | --- | --- | --- | --- |
| Move within 90 days | ✘ | ✘ | ✓✓✓✓ | ✘ |
| Personalized design features | ✓✓✓✓ | ✓✓ | ✘ | ✓✓✓ |
| Custom floor plan | ✓✓✓✓ | ✓ | ✘ | ✓✓✓ |
| Large lot (acreage) | ✓✓✓ | ✓✓ | ✘ | ✓✓✓✓ |
| Control over location | ✓✓ | ✓ | ✘ | ✓✓✓✓ |
| Affordability | ✓ | ✓✓ | ✓✓✓✓ | ✓✓✓ |
| Control over the HOA | ✓✓ | ✓ | ✘ | ✓✓✓ |
| Personal involvement | ✓✓✓ | ✓✓ | ✓ | ✓✓✓✓ |
A Deeper Understanding: Types of New Home Constructions
Armed with a better understanding of the building industry basics, you will be more prepared to decide what is right for you as you plan this major life investment. Meanings can vary based on where you live, now we want to dive a little deeper to provide more insight to guide you as you continue your search for a new home in Clark County.
Custom Homes
Some custom homebuilders require customers to hire their own architects and contractors, which can be very expensive and complicated. Homeowners are also responsible for ensuring that their construction site has met all of the necessary requirements before building can even begin. The process can often run into issues with permits and unforeseen obstacles, and it can take years to complete.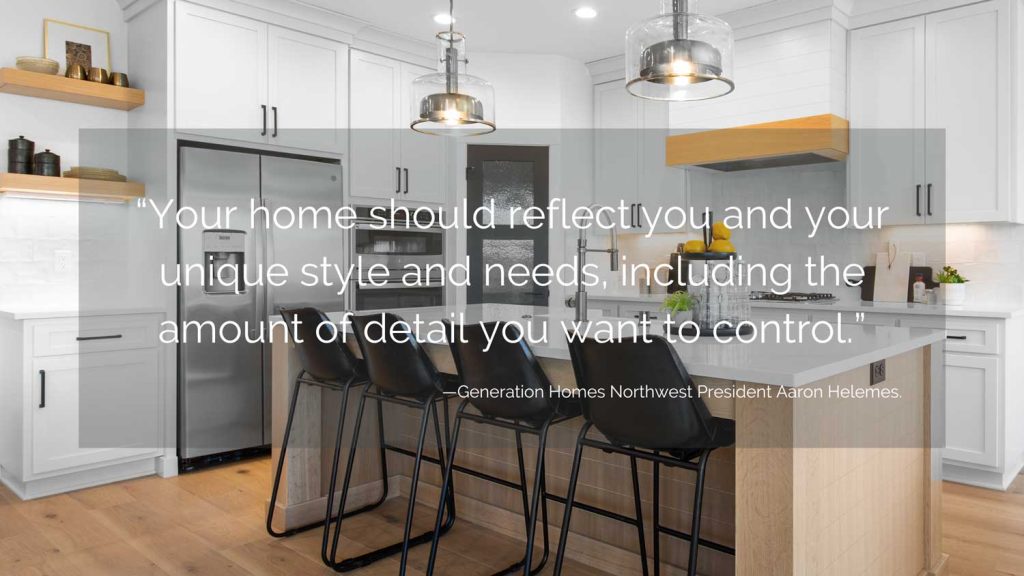 From the first meeting, the team at Generation Homes Northwest takes the time to learn how your family lives. Our experts work with you to create a custom floor plan, design the exterior architecture and guide you through pricing. From the initial walk of your property to designing the kitchen, we'll be with you every step of the way to take the guesswork out of the equation.
Our professional team will then begin with property evaluations which include septic, well, power, and road research or installation. Building your own home can require a complex understanding of permits, codes, and working with local jurisdictions. Rest assured, we research all these factors and make the process as smooth as possible. Generation Homes Northwest is here to build beautifully unique custom homes that our clients will love.
>>Learn more about building a Custom Home with Generation Northwest
Semi-Custom Homes
Semi-Custom homes are the "in-between" of a move-in ready (spec) and custom home. For most builders, semi-custom means choosing from a limited pool of predetermined finishes and layout changes. They are perfect if you want to make minimal floor plan changes but don't want to have to make every single decision throughout the process. This simplifies the complexity and shortens the time frame involved with building a fully custom home.
Usually, with a semi-custom home, after you purchase your lot within an established new home community, you'll choose between different floor plans a builder already has made. You can choose any add-ons you may want, such as a garage or deck, at an extra cost. You can also choose finishes inside the house, such as cabinets and counters, as well as colors for the outside of your home, depending on what materials the builder has. The choices are more limited with a semi-custom home, but you still can make it your own without the hassle and extra stress. They are an affordable way to build a home that is still unique to you.
At Generation Homes, we work closely with our design experts to make sure we provide design selections that are beautiful, functional, and of the highest quality. Every builder speaks of quality, but we take it so seriously here that our owner is involved with every design selection.
>> View all of Generation Homes Northwest's Communities
 Quick Move-In Homes
A Quick Move-In or Spec home is a move-in-ready new home, often built as a model or display home for a new community. The builder selects the finishes, typically in line with current trends, so the spec home appeals to a broad segment of buyers.
Spec home designs are accommodating and outfitted with selections that appeal to just about everyone. If you know you want a new home but aren't interested in the process of customizing one from scratch, then you should look into buying a spec home. Plus, since spec homes are designed to sell, they make excellent investments in case you need to move in the future.
Consequently, a spec home isn't an option for those who want a custom build. However, spec homes do have their advantages, especially for homeowners who have to buy in a short timeframe.
When buying a QMI home in one of our communities, you might feel like you are living in a custom home. We don't really do "builder basic" and include more features in each home than you typically see.
Because we know how important location is, we thoughtfully select where we build our spec homes. Over the years, we have proudly built new home communities in Battle Ground, Ridgefield, Vancouver, Camas, and all throughout SW Washington.
>> View all Generation Homes Northwest's Quick Move-In Homes
On Your Lot Homes
Building a home on your land is the ultimate in control of how you will live in your new home.
You might be a Build On Your Lot customer if you own land, are interested in tearing down an existing home (or mobile home), have a creative idea for an empty lot in an established neighborhood, or are willing to search for that idyllic piece of land far from the crowded city center and HOA fees.
At Generation Homes Northwest, we help bring that vision to life by walking you through the process of choosing and evaluating your land. Building your dream home on your own land can seem like a daunting task, but we're here to take away the confusion and provide clear advice and direction. We make the process pleasant and informative.
>> Learn more about Generation Homes Northwest's Built On Your Lot services
Building Your Home With Generation Homes Northwest
From our communities to custom homes built on your land, the team at Generation Homes NW has been helping families in Vancouver, Ridgefield, Battle Ground, and throughout Clark County find and build their dream homes. Please contact our team of experts to start planning your new construction home.
The team at Generation Homes Northwest brings over 50 years of homebuilding experience, building modern and vibrant new homes in our communities throughout Clark County, Washington. We're a fresh experience to homebuilding, where your ideas come to life with a team of passionate builders, designers, and trade partners. Our mission is simple: provide the best products, design, and customer care.