New homes offer an enticing blank slate, room to implement all those ideas you've been saving on your Pinterest boards – and, if we're being honest, they can be just a little terrifying.
There's a lot of blank wall space.
There are also hundreds of possible furniture arrangements in just the living room alone – or at least it feels like it. You might be looking at buying new furniture, trying out a new color scheme, or downsizing.
Here's the best way to get started with your decorating.
What To Keep In Mind When Decorating Your New Home
1. Make friends with your measuring tape
Building a new home on your property gives you an opportunity to gather all your measurements and information in one place.
Whether you're getting most of them from blueprints, or do it yourself, take the time to put down all those dimensions that you'll be working with in the future.
Ceiling heights, window sizes, wall measurements, counter lengths and fireplace dimensions – all of these can help you decide on everything from curtains to art to furniture.
2. Gather up your inspirations
Clear off the dining table, plug in the laptop, and start pulling out all those brochures, fabric samples, color swatches, and everything that you've been stashing away.
Open up your bookmarks on your computer browser, lay out those magazine articles, and get ready to start mixing and matching. Or matching and matching. Either way, it's time to narrow down your choices.
3. Hey, what are you looking at?
It's Design 101: Find the focal point for each room. With some spaces, it's pre-determined by the architecture.
A large window, a fireplace, or an accent wall will be what draws your attention as soon as you walk in the door. For a layout that pleases the eye, use this focal point as a visual anchor to work from.
4. Work from big to small
Figure out your key pieces, and let them dictate what comes next. Once you get your focal points established and your main furniture pieces in place, things will start to come together.
Even if you're starting with a whole new set of furniture, your new home will still look remarkably pulled together while you're still adding those personal touches.
Let your larger pieces introduce your style, and keep building from there.
5. You don't have to purchase everything new
As a matter of fact, blending old and new furniture pieces and decor pieces will keep any room feeling more comfortable and attractive.
The best room updates will have an artful combination of old and new. This also provides a chance to change things up a little. If you've gone in a different style direction in your bedroom, you may find that a piece that has been assigned to that room forever might just be the perfect accent for your new study.
Tips For Designing Each Room
Once you've sat down with all your style inspirations, look for patterns.You'll be able to use your choices for any room.
Helpful questions to ask might be:
• Are you seeing a lot of cool tones in the color schemes?
• Are most of the surfaces sleek, or have you been drawn to texture?
• Does almost every room design you've saved have a particular color?
• Is there a style of furniture that keeps showing up?
Make a list of the things that stand out.
Bedroom
Your bed is a natural focal point, and the trend is towards headboards that make a statement. The entire idea of what should go above the bed has changed.
New trends suggest that let your bedroom style go supersized!  Highlight the wall space with a bold piece of art or an accent wall that utilizes wallpaper.
If you do use a headboard, go tall and don't be afraid of colorful upholstery.
Kitchen
Don't forget to hang art in your kitchen area. It's easy to get caught up in tucking everything away, or just keeping a few appliances out on the countertops, but the right piece of art can really pop in this underlooked space.
When you've worked with a trusted home builder, you know that they've gone the extra mile to make sure that your kitchen work zone works effectively and that the design is ready for living.
Go ahead and honor the new space by featuring art that makes you feel happy.
Living Room
Don't waste a good focal point! It can set the tone for the whole room.
Think back to your style inspirations. Use one of those style points that you identified, and incorporate it here. If it's a color, use it in a big way.
For example, if your focal point is a big window, use it in the curtain fabric. If you are drawn to natural, rustic textures, think about using a fabric like burlap for your window coverings.
Bathroom
Use real furniture in your bathroom decor – it's an amazing look. Pull in some small end tables or use a wooden bench by the tub to hold towels.
Bathrooms are larger and more luxurious than ever, and you don't have to limit yourself to just built-in items and lightweight pieces. Let the decor and the feeling match the rest of your house for a modern feel.
Dining Room
A good rug is one of the best ways to keep a dining room looking interesting when it's not in use. Don't try to blend in – go with an interesting pattern or strong colors.
Dining room tables tend to present a lot of blank space, and with the table being a focal point for the room, it looks better to play off the shape with an area rug that adds some visual weight.
Work from its pattern and color when you choose other decor items for the room, and the whole look will come off as something much more polished than just an empty tabletop.
Interior design trends for your inspiration
All about the blues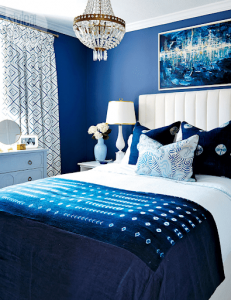 Blues are strong in the color forecasts – and the shades are strong and intense. Pale and washed out tints are out – the richness of cobalt and royal are being used in  everything from tile accents to pendant lamps. The new shades feel natural, and have more than a hint of bohemian charm about them.
Photo via www.styleathome.com
Art Deco Returns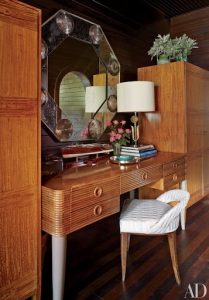 The best things always come back into style, and Art Deco is one of the freshest trends. The latest take on the look is updated, and has something for everyone. It's a little less sweet, and a lot more sophisticated. The sharpness of the geometric shapes is still there, and so are the color contrasts – but the shades are now warmer tones of coral, contrasted with deep greens, dark wine reds, and midnight blue.
Photo: by Björn Wallander – Source
Handcrafted Accents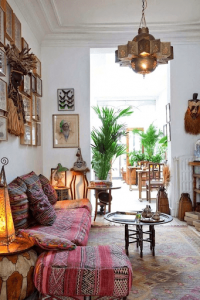 A big trend in 2019 is the continued use of handcrafted accents with a strong texture. Think fabrics like burlap and raffia, handwoven rugs, and unique furniture pieces that aren't afraid to show off their artisanal quirks.
On walls and floors, expect to see a renewed interest in finishes that look hand-applied and aren't afraid to be bright. Layering now happens with rugs – don't be afraid to mix and match your patterns while you're at it. Hand-dyed and finished fabrics in interesting prints, and wallcovering that looks hand-stamped are all part of the look. It's fun, it's bright, and it's eclectic.
Photo via HarpersBAZAAR.com
Texture Mixing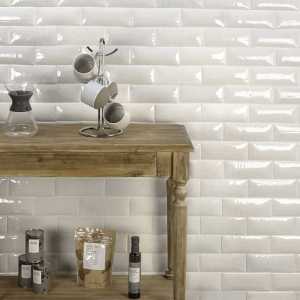 It's chic to mix up your textures – contrasting the sleekness of stainless steel and marble with the earthiness of pottery and rough wood. This can be used throughout the home – loosely woven curtains with polished floors, barnwood accents in the kitchen, and grasscloth wallpaper in the entry hall, contrasting with glossy wood furniture. It's an easy way to mix and match, and can warm up any room.
Photo via tilebar.com
Real plants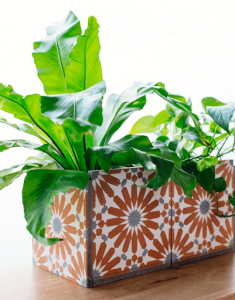 They're healthy, they're gorgeous, and they have thousands of Instagram accounts dedicated to them. Urban jungles are the latest thing – and they're easy to love. Even those with the brownest of thumbs can handle a kitchen window herb garden, or some tough succulents. There's something special about watching a plant grow up in your new home – try to put one in every room.
Photo via Jungalow.com