Exploring the Perks and Challenges of Multi-Gen Homes
Have you noticed more families choosing to live together in multi-gen homes lately? We're talking grandparents, parents, and kids, all sharing the same living space. With this shift in family dynamics, it's essential to understand the ins and outs of multigenerational housing.
In this post, we'll discuss the benefits, and potential challenges, of living with your extended family in a multi-gen home. Plus, we'll showcase two Generation Homes NW home plans specifically designed for multigenerational families.
The Multi-Gen Home Movement: Why It's Gaining Popularity
Multigenerational living brings together at least two adult generations, such as parents and their grown-up children, in one household (a.k.a. a multi-gen home). Interesting fact: in 2021, 18% of the US population (that's 59.7 million people) lived in multigenerational homes, up from just 7% in 1971. Factors like longer life spans, financial considerations, and the desire for closer family ties contribute to this trend.
Young adults are pursuing more education, marrying later, and starting their own households later as a result. This, combined with the fact older generations are living longer, delays the transition of generational wealth. Multi-gen home plans are an ideal solution that benefits the Millenials and Gen Zers looking to buy their first home and keep the Baby Boomers and Gen Xers out of retirement homes.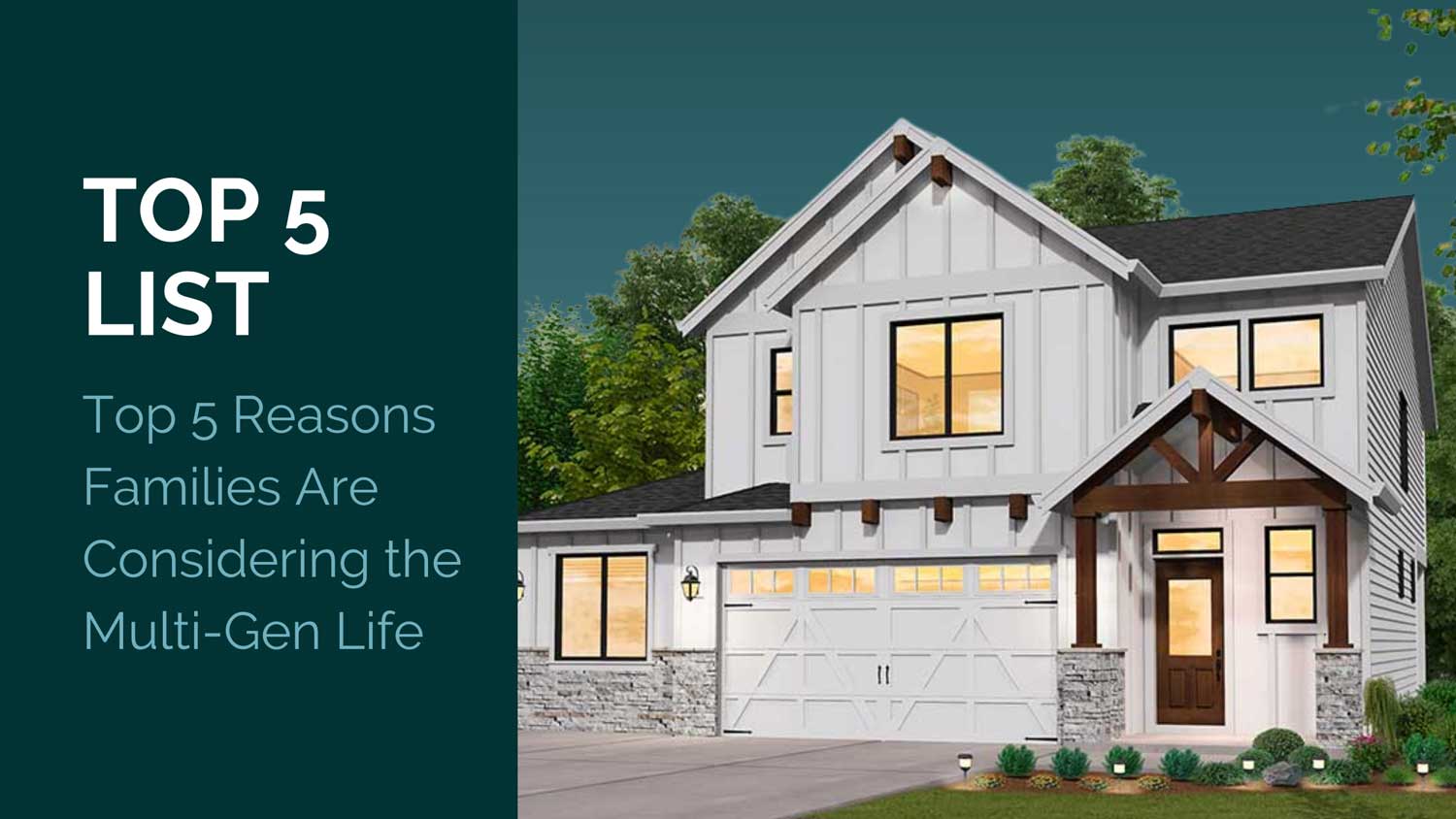 The Benefits of Living with Your Extended Family in a Multi-Gen Home
Money Matters: When families combine forces in a multi-gen home, they can pool resources and save on expenses like mortgage payments, utilities, and groceries.
Emotional Bonds: Sharing a home with multiple generations can strengthen family connections and provide emotional support during challenging times.
Caring for Loved Ones: With family members of different ages living together, there's an opportunity for mutual help when it comes to childcare and eldercare.
Teamwork: Divvying up household chores, maintenance tasks, and other responsibilities can lighten the load for each family member.
Cultural Connection: Living with several generations in a multi-gen home helps preserve and share cultural traditions, family values, and heritage.
The Challenges of Multigenerational Living
Privacy, Please: With many family members under one roof, privacy can be a concern. However, well-designed home plans (like the two we'll showcase below) can help address this issue.
Family Feuds: Different generations might have distinct opinions, habits, and preferences, which can lead to disagreements. Open communication and setting boundaries are crucial for maintaining harmony in a multigenerational household.
Introducing Multigenerational Home Plans for Modern Families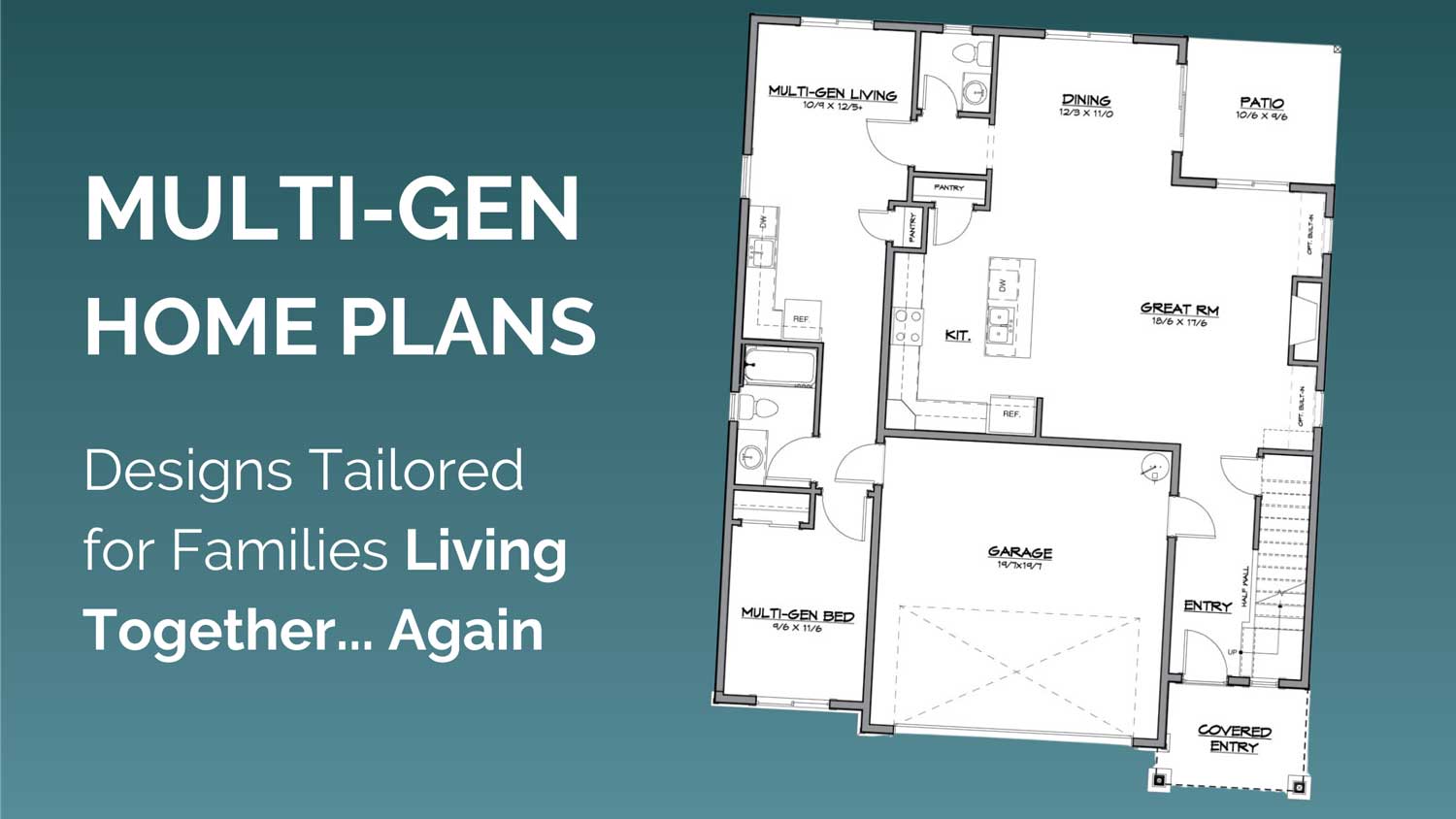 Ready to explore some home plan options?
Check out these two designs tailored for families living in multi-gen homes.
The Alexandria Multigenerational Home: This impressive 2,607 square-foot home features a unique attached suite on the main floor, providing a private living space for extended family members. The suite includes its own living room with a kitchenette, a full bathroom, a bedroom, and direct access to the garage. The main two-story home offers a total of 3 bedrooms, 3 bathrooms, a 2-car garage, a great room, and a loft. Upstairs, you'll find the primary suite and two additional bedrooms, providing ample space for everyone to enjoy their privacy while still connected.
The Trimont Multigenerational Home: Spanning 2,824 square feet, the Trimont provides a spacious attached suite on the main floor, just like the Alexandria. The suite boasts a cozy living room with a kitchenette, a full bathroom, a bedroom, and private garage access. The main two-story home consists of a total of 3 bedrooms, 3 bathrooms, a 3-car garage, a great room, and a loft. The second floor houses the primary suite and two smaller bedrooms, ensuring each generation has its own space while maintaining a sense of togetherness.
Custom Multi-Gen Home Plan: From our first meeting together, we take the time to learn how your family lives. We will work with you to create a multi-gen home custom designed for your families needs. Generation Homes Northwest offers a level of customization and flexibility that is virtually unparalleled.
The Alexandria and Trimont multigenerational home plans both come with three different elevation options, adding a touch of personalization for families looking to create their perfect living space. These fantastic home plans are available in the family-oriented community of Cedar Heights, a delightful neighborhood by Generation Homes Northwest.
Situated just a few minutes south of downtown Battle Ground, Cedar Heights provides an ideal setting for families of all sizes. The community boasts an array of flat building sites and greenbelt properties, making it the perfect backdrop for outdoor family fun. Cedar Heights caters to the diverse needs of modern families, offering a wide variety of one-level, primary suites on the main floor and two-story homes, many with 3-car garages. With prices starting in the low 500s, this inviting neighborhood emphasizes family living and ensures your multigenerational home is nestled within a warm and supportive community.
Building a Multigenerational Home
Multigenerational living offers numerous benefits, including financial savings, emotional support, and shared responsibilities. However, addressing potential challenges such as privacy concerns and family disagreements is important to maintain a harmonious household. By considering the unique needs of each family member and choosing a well-designed multi-gen home plan, families can fully embrace the adventure of close-knit living.
Remember, the key to successful multigenerational living is open communication, mutual respect, and the ability to adapt to changing circumstances. With the right approach and a suitable living space, a multi-gen home can provide a fun, casual, and rewarding experience for all generations involved.
Building Your New Home in Clark County
From our communities to custom homes built on your land, the team at Generation Homes NW has been helping families in Vancouver, Ridgefield, Battle Ground, and throughout Clark County find the multi-gen home plan that works best for their needs. Please browse our homes in Cedar Heights or contact our team of experts to start planning your new construction home.
The team at Generation Homes Northwest brings over 50 years of homebuilding experience, building modern and vibrant new homes in our communities throughout Clark County, Washington. We're a fresh experience to homebuilding, where your ideas come to life with a team of passionate builders, designers and trade partners. Our mission is simple: provide the best products, design and customer care.